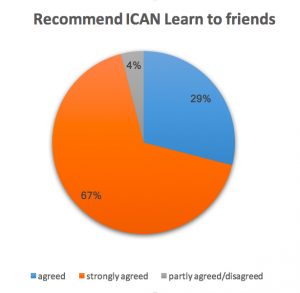 The Australian Skills Quality Authority (ASQA) are Australia's vocational education training (VET) regulator and every year they monitor the compliance of registered training organisations against a set of national standards. Part of the ASQA audit process involves contacting students directly for feedback. ICAN Learn is thrilled to announce that it just passed its first post registration audit with some impressive results.
Speaking on ASQA's reaction to the audit, Bernadette Pasco, ICAN Learn Executive Officer said, "ASQA was impressed with our student response rate; normally ASQA receives around a 9% response rate, but the blind survey ASQA conducted of our students had a 40% response rate, with extremely positive feedback, an awesome outcome for ICAN Learn."
"The auditor was impressed by our engagement with industry, agencies and subject experts to ensure that our education made people job ready," said Ms. Pasco. "Our work in engaging with peak bodies to guarantee training relevance was also commended."
ICAN Learn will continue to build sector capacity by engaging peak bodies and agencies throughout Australia; in particular Qld, NSW, Vic, SA and the NT to develop more teachers with an extensive experience in financial counselling. This will primarily be achieved in 2019 through an EnergyAustralia Financial Counselling Educator Scholarship Program, that will see up to 20 financial counsellors from across Australia able to design and teach the Diploma of Financial Counselling in their state or territory.
"Local course design is imperative to ensure that course delivery meets local needs, by taking into account local practices and providing opportunities for engagement with experts in the region, in short, building the best education experience", said Ms Pasco.
Once the financial counsellor/educator workforce has been developed, up to 75 Energy Australia and Commonwealth Bank scholarship opportunities will be provided in the fore mentioned states and territories.
"The test for ICAN learn will be to maintain 2018's overall student satisfaction rates, whilst introducing new financial counsellor teachers to the Diploma of Financial Counselling program", Said Ms Pasco. "Student satisfaction is of primary importance, linking the purpose of ICAN Learn to the essence of professional development is so vital to the financial counselling sector."
In the aftermath of the national private college debacle, ICAN Learn is proving that being an ethical registered training organisation committed to student outcomes and the financial counselling/capability sector is a winning formula.