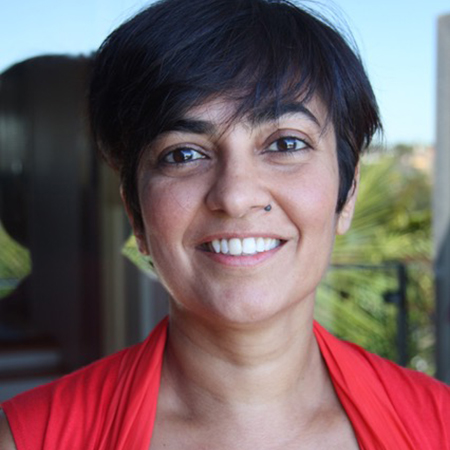 Can you tell us a little about yourself?
I immigrated to Australia from India when I was 21 and live with my family in Sydney.  I grew up in a small town outside Mumbai, but my family comes from around Shimla, north of Delhi. I have a Master of Business and a Master of International Studies, with most of my career spent in relationship development, including relationship banking when I worked in the banking sector.
Why the career change to community services?
Growing up in India, I was exposed to extreme poverty. My parents had a strong ethic about educating children from the poorest families, so that these children had a chance to break out of the poverty cycle. After I moved to Australia, I continued to support an amazing charity back in India, SAMPARC. They do incredible work providing the street children of Mumbai with a home to call their own. I also did a lot of rural development work with SAMPARC, helping to set up vocational training centres for the empowerment of tribal women and setting up education programs for rural children. I've always had a passion for helping people improve their lives.
How did you find out about the CBA Indigenous and Multicultural Diploma of Financial Counselling Scholarship?
I wanted to work in the not-for-profit sector, I just wasn't sure in what capacity. I did a lot of research during COVID, but the courses I looked at didn't gel with me as most were online with little or no interaction. Then one day I was fortunate to find information about the CBA scholarship with ICAN Learn. At the time I didn't know financial counselling existed! I was intrigued by the role of a financial counsellor, so I read up on it to understand what I was signing up for. As a migrant myself, I really love the multicultural aspect of the diploma, I haven't come across anything else like it. I definitely found the course and direction I was looking for.
What would you like to achieve with the Diploma?
I am interested in supporting people and communities to achieve economic independence. By completing the Diploma of Financial Counselling, I want to help other migrants, or any cohort, become economically resilient and independent. I really want to support people to gain their place in society, and to provide them with access to the help and services that they may not know even exists. I'm also really interested community education. I would love to be part of empowering people by building financial capability.
What has your experience been studying with ICAN Learn?
It has been amazing – the content is fabulous and the delivery is so thorough. It makes such a difference that the teachers are all qualified financial counsellors as we're discussing real-life scenarios and benefitting from real world experience. We get so many different case studies to work through, so we are really being prepared to hit the ground running. As I'm part of the CBA Multicultural scholarship, my classmates are all from different countries, so the wealth of experience and knowledge from our diverse backgrounds broadens everyone's perspective, which is invaluable.
The amount of support that we receive is outstanding too. At any stage, we can say 'I'm struggling' or 'I don't understand', and our teacher or the ICAN Learn support team are always available to help. They continuously checking in with us too in case any of the issues we're discussing in class are affecting us personally. All the staff go way beyond what is required to support our journey. We get so much live discussion time and thorough feedback from our assessments. Our teacher Natasha tells us she is aspiring for us to graduate as financial counsellors at the highest standard, which builds so much self-confidence for all of us.
Do you have any advice for someone thinking about doing the Diploma of Financial Counselling?
Do not hesitate at all – have confidence that you can do it. It's a very in-depth course that requires dedication and a longer commitment than some courses, but for me, there is no substitute for the knowledge you're gaining from industry professionals. This course is of the highest standard and gives you the confidence to go out there and be a great financial counsellor. It's been one of the most enriching experiences in my life.
For more information about ICAN Learn's courses visit https://icanlearn.edu.au/course/ican/ or contact enquiries@icanlearn.edu.au