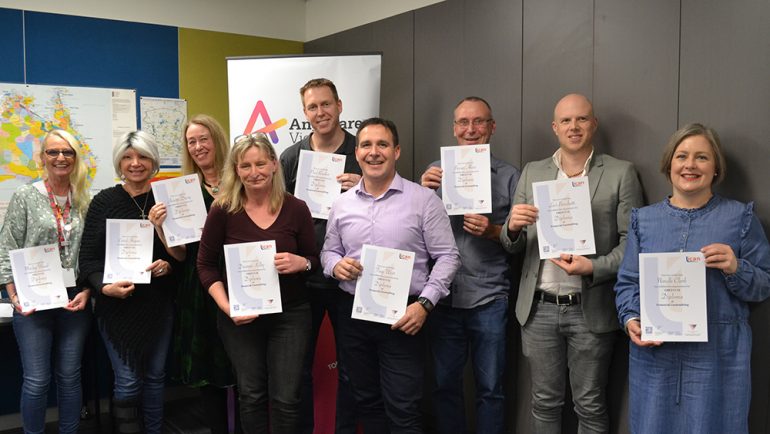 There are now more opportunities to regain financial independence thanks to an innovative, Australian-first regional scholarship program.
Ten students graduated last month, and two more later this year, with a Diploma of Financial Counselling following education and support by registered training organisation ICAN Learn, leading energy retailer EnergyAustralia, and Bendigo's Anglicare Victoria.
"We congratulate today's graduating class and look forward to seeing the meaningful role they will play for anyone going through a tough time. There's immense value in financial counselling and our investment is our way of shining a light on this important profession that serves the community," EnergyAustralia Vulnerability Program Leader Kane Stella said.
"The fact is, no one should struggle to put food on the table or pay an incoming bill. As a provider of an essential service, it's our responsibility to promote and support these programs, understand people's difficulties and assist people get back to being at their best."
ICAN Learn Executive Officer Bernadette Pasco said the program has a positive impact on the lives of people who will become more financially empowered, thanks to qualified help.
"This is a success story and the reception to this initiative has been excellent. Our partnership with EnergyAustralia has meant we can use local trainers and showcase a model for the future, adding immense potential for regional areas," Ms Pasco said.
The EnergyAustralia and ICAN Learn Financial Counselling Development Program is a three-year initiative to strengthen and build new career development opportunities for the financial counselling sector.
This month, 70 more students across eastern Australia were granted scholarships under the initiative to begin their journey into financial counselling, which will be funded by EnergyAustralia.
The August cohort include students from Bendigo, Ballarat, Gippsland and Shepparton – each eager to make a positive contribution in their community.
One graduate, Bendigo-based Laura Powell, said she jumped at the opportunity to apply. "The financial support I received has enabled me to pursue a career that's going to help people overcome their financial difficulty," she said.