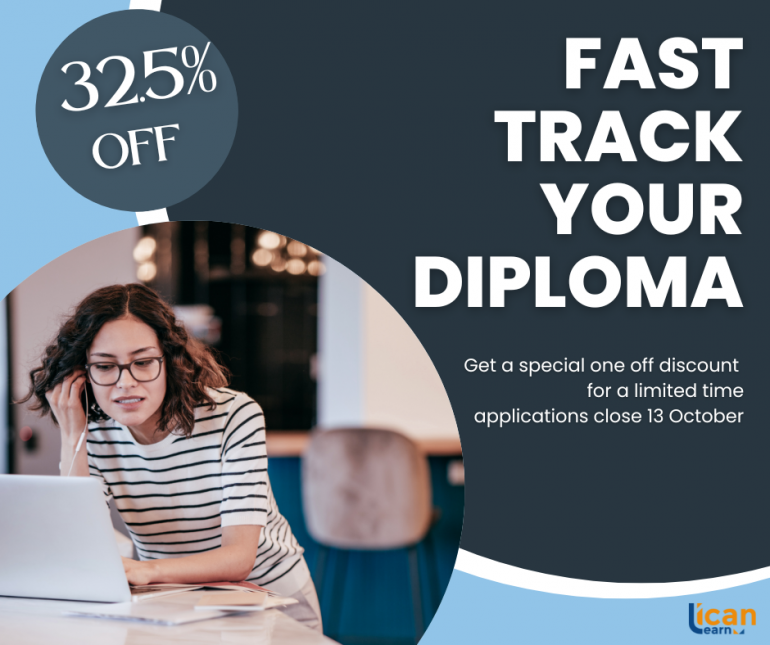 Take 12 months off your study time and 32.5% off your fees when you enrol for ICAN Learn's Diploma of Financial Counselling CHC51115 Fast Track course. We caught up with Tracey Grinter, Acting RTO Manager for ICAN Learn to find out more about this special offer.
Hi Tracey – a fast-tracked Diploma of Financial Counselling and a discounted rate? Please tell us more!
ICAN Learn is very excited to be offering a fast-tracked delivery of the Diploma of Financial Counselling (CHC51115) starting in October 2022. This course will look a little different from our previous Diploma deliveries as it will see students graduate and be ready to work as a qualified Financial Counsellor within 12 months, instead of 2 years.
The course has a huge discount of 32.5%, why is that?
I know right –that's a saving of $3,256 – what a great deal! Due to the structure of the course, we can offer this one-time special offer. If anyone was thinking of studying with us – now is the time!
Sounds great! Who is this course suitable for?
We know a fast-tracked Diploma isn't for everyone, so it's really suited to people who are already working in the sector and can commit to their studies, or someone who isn't working and wants to get their qualification and gain employment as soon as possible.
If it's not quite the right fit, that's OK – our normal 2-year Diploma delivery will resume in March 2023. Details are on our website here.
Are there any prerequisites for the course?
There are no formal prerequisites for the course. However, it's desirable that applicants demonstrate an interest and relevant experience in the social and community services field and that they have the appropriate maturity and interpersonal skills to work with a diverse range of people. Applicants must demonstrate functional verbal and written English literacy skills equivalent to Year 12 or beyond.
Why is a Financial Counsellor a rewarding career choice?
We know many people from marginalised socio-economic backgrounds are not afforded their financial rights as consumers and members of society. Your work in financial counselling will empower people for change, develop their capacity to be in charge of their financial choices, and share that knowledge with their families and communities. You will be an instrument for them to create new money stories in their lives.
What career development opportunities are available?
A graduate can apply to become a member of the financial counselling peak body in their state or territory and be recognised as a practicing Financial Counsellor at successful course completion. Career advancement is possible through comprehensive professional development programs in the Financial Counselling sector and additional accredited education, like the Rural Financial Counselling specialisation, Problem Gambling Skill Set or Professional Supervision.
What should someone consider before committing to the course?
The Diploma of Financial Counselling is a course that requires a significant application. Students must be able to put aside at least 8 – 10 hours per week of personal study time and be prepared to attend a weekly 6-hour class for 12 months. Attendance at classes according to the timetable is a requirement. Students must also complete 200 hours of Learning in the Workplace within the next 12 months.
When do applications close?
Applications for this one-off Fast Track course close on 13 October 2022, so be quick! People can also register for our special online information session about this course on Thursday, 29 September at 11 am.
Register for the Fast Track Diploma information session here