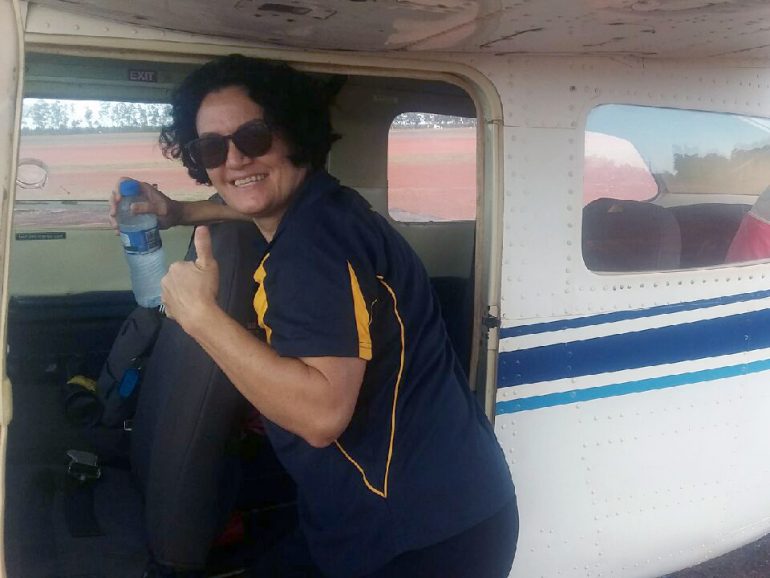 This month Kay Ratana tells us about her journey to become a Financial Counsellor and what it's like providing outreach to remote NT communities.
Can you tell us about your background and how you ended up in remote NT?
I'm originally from New Zealand and of Māori heritage.  I lived in Brisbane but moved to the NT with my husband after he got a job in the mines. I worked in a short-term role for NT Education Department before landing a job as a Financial Capability Worker with Anglicare in Nhulunbuy.  I'd been in the position for 3 years when the Financial Counselling scholarship became available, so I applied and haven't looked back.  I was also lucky I could do my placement and outreach with my employer, Anglicare, so I was getting day-to-day practical experience.  My manager was really supportive and my colleague, who is also a financial counsellor, was a fantastic mentor.
What was it like to study as a mature-aged student?
I'd already done a bit of study when I completed my Training and Assessment Certificate, but it still took a bit to get back into the swing of it. I was working full time, doing a lot of remote travel, and helping to look after my grandson. I ended up ringing Robyn (ICAN Learn Teaching, Learning Coordinator), who said, 'you just have to get started!'. So I tackled the first few assessments and was on my way.
Did you have any challenges completing the scholarship?
My husband was diagnosed with a severe health issue in 2020 so I had to put my study on hold, but ICAN Learn was really supportive during a difficult time. Once I was ready to dive back in, I contacted ICAN Learn and was placed into a class where I could pick up where I left off. I also figured out ways around any study barriers that my regular outreach travel presented, like printing off my work beforehand so I could get as much reading done as I could while I was travelling. There's always a way to make it work.
Where does your outreach take you?
Most of our travel is to remote areas accessed only by light aircraft, like Groote Island, Galuwinku, Milingimbi, and Ramingining. We also service smaller communities around Nhulunbuy which are within driving distance. People in the community sometimes need to bring an interpreter when they come and see us. That person may be a family member or a trusted community member – they may even work for another organisation – so we need to build strong networks as part of our work. Some of our communities have their own Indigenous financial capability workers, like Gapuwiyak. One of the Anglicare capability workers there just completed the Financial Literacy Education course with ICAN Learn, so we could support her through her training, which was fantastic.
What sort of cases do you deal with?
We deal with pretty much everything. People are vulnerable and disadvantaged because of their remoteness and lack of employment etc, but that does not stop them having access to all the mainstream opportunities through their phones and being preyed upon by companies trying to sell products and finance. It's easy for predatory sellers to get people to sign things they don't understand and to make false promises.
Is there a case that is particularly memorable for you?
I got a $30,000 car loan waiver for a client who was sold an unsuitable vehicle that he couldn't afford. I remember the morning he came in to see me, panicking, telling me he had to make a minimum $600 payment the next day to the 'nice man' who sold him the car or he would lose it. After hearing his story, I told him not to worry about making the payment as I didn't think the salesman had done the right thing. When he left my office, he grabbed his chest and said to me, 'thank you, I thought I was gonna have a heart attack today.' I can still see his face. When I rang him to tell him the debt was gone and he could keep the car, he just went silent. He's usually quite chatty, so I said, 'hello are you there?' There was another long pause, then he said, 'Kay, thank you.' I could not only hear the relief in his voice, I could feel it. The depth of his emotion still makes me tear up.
What did that mean to you?
Removing such enormous pressure and stress from that man's life was incredibly rewarding. It's why we do what we do. But it was also reciprocal. He was my first placement client and my first outcome, so helping him gave me the confidence about what I could do as a Financial Counsellor. I had no doubt that every client I saw after that I could help. I might not be able to get full waivers every time, but I can understand contracts, consumer law and advocate on someone's behalf to get them the best outcome possible. The course gave me the skills and knowledge to help change someone's life. That client will always inspire my work.
What would you say to someone considering doing the Diploma or applying for a Scholarship?
You have to have a strong desire to make a difference in people's lives. It's not just a Diploma to hang on the wall. Behind that Diploma, you have to want to make positive changes, relieve people of their financial stress and make their lives more manageable. Financial Counselling is so rewarding because you're changing lives. You will never regret it if you're in it for the right reasons.
What's next for you?
You've actually caught me on my last day at Anglicare as we're about to pack up and head back to Brisbane!  I'll be starting a new role, this time utilising the skills I've gained from my Diploma to advocate for people in the aged and disability sector.  Completing the scholarship has opened so many new doors and opportunities that I wouldn't have otherwise had access to.  I've loved my time working at the Money Support Hub. We've always worked so closely together and supported each other as the workload can be quite heavy. It's been a real team effort. The experiences I've had and the people I've met in the NT have been life-changing.