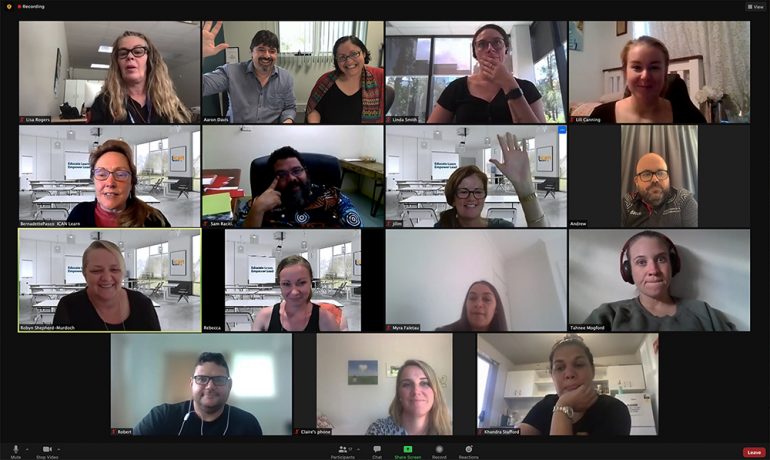 ICAN and ICAN Learn are proud members of the CBA Community of Practice (CoP) that addresses banking approaches to family violence and financial abuse.
CBA has engaged several partners in their Next Chapter program, which aims to address financial abuse for their customers and the community, as well as using research and collaboration to drive new practices.
CBA is providing leadership in the banking sector by exploring how things can be done differently through its engagement with CoP partners.
ICAN Learn Executive Officer, Bernadette Pasco, recently presented to CoP members about the impacts of financial and economic abuse on Indigenous Australians and people from other multicultural backgrounds.
'To be able to assist the development of CBA's role in preventing financial and economic abuse by providing insight into issues that financial counsellors see every day is a really useful aspect of being part of this Community of Practice, said Bernadette.
'The opportunity to provide some insights, particularly into barriers for Indigenous Australians and those from multicultural backgrounds about accessing appropriate information about financial and economic abuse is great. ICAN Indigenous director, Daphne Naden, has also provided invaluable first-hand insights.
'The CBA CoP provides an opportunity to give feedback into CBA approaches to tackling abuse from both the perspective of the victim(s) as well as the perpetrator, and supports the advocacy undertaken by ICAN and ICAN Learn's financial counsellors and teachers.'
Claire Dawson, Executive Manager Community Affairs, Commonwealth Bank, spoke about the importance of engaging community partners: "CBA has been helping victims and survivors of domestic and financial abuse for more than five years, and last year we launched the Next Chapter program to extend our support. During that time we have worked closely with our domestic and family violence sector partners to ensure we are developing solutions that provide the right support. We will continue to work with the sector and experts in this field to conduct independent research that can fill gaps in our knowledge of financial abuse and develop effective responses."
ICAN Learn is currently providing 34 scholarships for the Financial Literacy Education Skillset and the Diploma of Financial Counselling to people from both First Nations and multicultural backgrounds through its partnership with CBA, providing another avenue for positive change.
'Many of our students are women and some have lived experience of financial and economic abuse', said Bernadette. 'This lived experience not only enriches the education for all but allows participants to change their lives through that education. It's about empowerment to get a job, making different life choices, and making a difference to others.'
ICAN Learn courses are making a real impact with several students living and working in remote locations, and in community organisations where their new knowledge is shared with others who may be victims of financial and economic abuse.
Under the Next Chapter program, UNSW is developing a research series on the state of our knowledge on financial abuse in Australia. When complete, the research series will represent a compendium of current evidence on economic and financial abuse and gaps in our current knowledge. The first report, Understanding Economic and Financial Abuse in Intimate Partner Relationships, is available on the CBA website. 
ICAN /ICAN Learn contributed to the second report in the series, Understanding Economic and Financial Abuse in First Nations communities, also available on the CBA website.