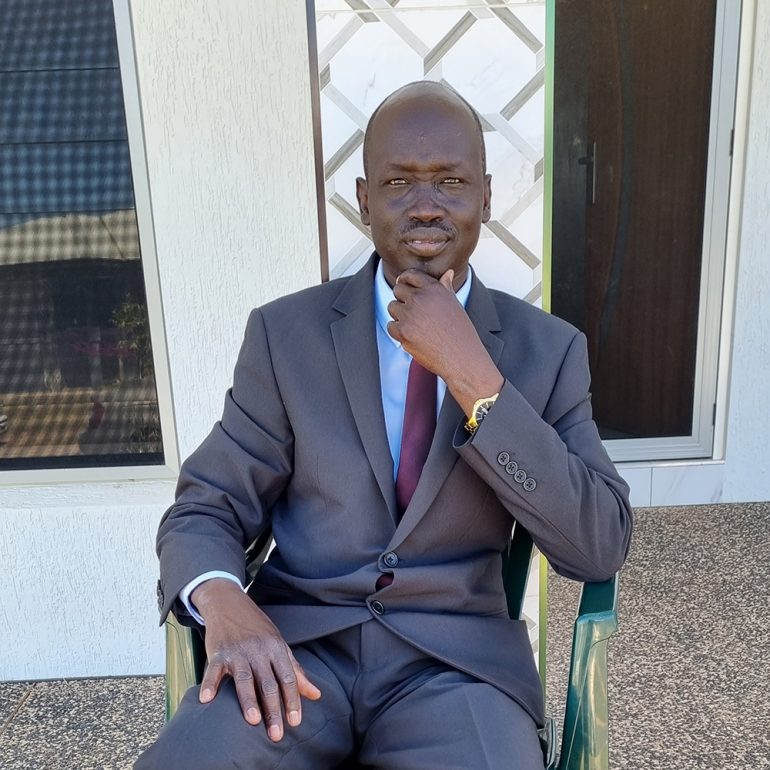 Deng Bul went from a Kenyan refugee camp to setting up his own charity in Australia, completing the CBA Indigenous & Multicultural Scholarship along the way. Deng shares his inspirational story here and tells why he wanted to become a financial counsellor.
I left my homeland of South Sudan in 1987 due to the war and ended up living in a refugee camp called Kakuma, in North-western Kenya. A lot of South Sudanese also fled in 1991 and are still in Kenya today. They've never been able to get back. There are kids born in that camp that are now parents themselves and have never been to South Sudan. I managed to return to South Sudan in 1993 to look for my parents as I hadn't seen them since I left and ended up being recruited into the army as a soldier. Ultimately, I was fortunate to have found my parents, who were still living there. I later worked for several NGOs, including the International Committee of the Red Cross (ICRC), doing medical relief work with staff from all over the world.
I returned to Kenya in 2000 to continue my education provided by my sponsor, so I was lucky enough to complete my studies at a private school. An opportunity came up for me to resettle in Australia where my cousin lived, so again, with the support of my sponsor, I applied to come out on a Humanitarian visa, and I am now an Australian citizen.
A search for meaning
I completed a Batchelor of Biotechnology at James Cook University and was working in a lab in Victoria. Although I enjoyed the job, I missed interacting with people, so I headed to Darwin to look for different work. I have been doing charity work since I was young and felt that my real direction was in humanitarian work. I wanted to interact face to face with people again, hear their problems, and see their faces when I could do something to improve their life.
I ended up working as a wellbeing and capability case manager for Catholic Care NT in the Tiwi Islands, 100km off of Darwin. It is a very vulnerable community, and I realised that empowering people with financial information was a way I could help improve their lives.
Starting my scholarship
My manager first told me about the CBA Indigenous and Multicultural Diploma of Financial Counselling Scholarship with ICAN Learn and sent me the link to apply. I'd started to understand what financial counselling was all about while working on the Tiwi Islands, as we had financial counsellors that would visit from Darwin. I was so happy to be awarded the Scholarship as it was the direction I was searching for. I started my studies in 2020 and graduated on 30 August 2021. Graduating gave me a real sense of achievement. I feel empowered by my knowledge, and I can now empower other people to take control of their finances.
It was a lot at first as I was working and had two young children at home, but I managed to get an internship with Sommerville Community Services in Darwin. The internship really helped me as I could immediately put what I was learning into practice. I was also supported by my line manager and mentor, Vicki Borzi, and my financial counsellor colleagues, so it was great to have their help.
Changing lives
When I receive a thankyou card from somebody who came in struggling but goes out happy and feeling like they have something to live for, I get a feeling of satisfaction about what I'm doing. I know we both struggled to get to this point – I struggled to get the best outcome, and they struggled to change their life. If I can change just one person's life, they can go and change the lives of other people. The financial struggle expands to other things like family violence, gambling, drugs, and suicide in extreme cases. So, teaching someone to take control of their finances can be life-changing for them and their families.
Starting my charity
In 2018 I walked from Darwin to Alice Springs to raise money and awareness about the plight of South Sudanese widows and children, which led to my wife and I setting up our charity, Integrated Help and Opportunities for Peaceful Existence – iHOPE. The walk took me 25 days. I had a couple of great Indigenous guys from the Tiwi Islands as my support crew, one driving the supply car and one filming the walk. Catholic Care helped us out by sponsoring some of our fuel bill and providing a satellite phone to stay in touch with our families. I'm planning my next walk now, which will be from Alice Springs to Adelaide.
Turning pain into power
I would encourage anyone to do the Diploma because nothing is better than helping others stand on their own two feet. The Diploma of Financial Counseling is different to any other diploma because you will see people with all sorts of problems, but for me, being a financial counsellor is a very rewarding career.
When you grow up in a country where there's been war since 1955 and then live as a refugee for many years, it motivates you to try and make sure other people don't fall into the same situation of having nothing. It's not about giving people things but giving them the knowledge and power to have a go to help themselves.
You can find out more about Deng's charity, iHOPE and watch the video of his walk here:
(5) Integrated Help and Opportunities and Peaceful Existence-IHOPE Inc | Facebook