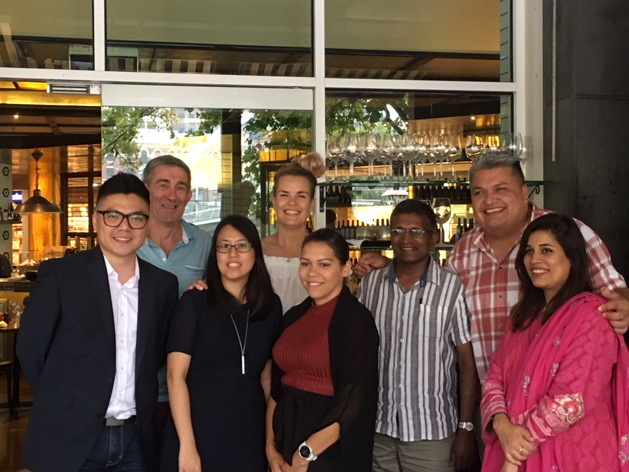 Congratulations to recent graduates of ICAN Learn's Victorian programs. ICAN learn celebrated the success of students in our Victorian programs with a wonderful lunch on the banks of the Yarra at Southbank, Melbourne.
In October 2017, ICAN Learn enrolled its first Victorian students in 2 courses: the 'Victorian General' course and the 'Multi-Cultural Scholarship Program', both programs delivering the Diploma of Financial Counselling.
All participants worked hard to achieve success and all graduates are in current financial counselling employment in various organisations. Many of our students from these programs have featured in the ICAN Learn news over the last 18 months.
The Victoria General program gave opportunities to individuals to study in a small group and receive individual mentoring and support.
"It's been amazing to work with such a group of motivated individuals seeking to add value to the financial counselling industry," said Robyn Shepherd-Murdoch, the lead teacher for the program. Robyn Individually supported all the students from this group, leading them to success.
The Multi-Cultural Scholarship Program [MCSP] presented a different opportunity. Funded by the Commonwealth Bank of Australia [CBA], the MCSP was the first-ever Diploma of financial counselling student group in Australia to focus only on those with a history as new Australians keen to create capacity for their communities in the future. It complements ICAN's focus on empowering the Indigenous workforce, using the same mentorship model with significant 1:1 support provided to enable students to gain success. The MCSP delivered the skill set in Financial Literacy Education [CHCSS0077] before students commenced the Diploma of Financial Counselling [CHC51115]. This approach ensures opportunities for employment in both the financial capability and financial counselling sectors, doubling chances of success.
"The students in the MCSP have come such a long way – we have learned as much from them and they have from us," says Robyn Shepherd-Murdoch. Graduates from the MCSP program are also employed in various agencies.
ICAN learn / CBA will be conducting the second group in West Sydney in 2020 and is currently focusing on recruiting students from multicultural backgrounds through working with agencies and aligned providers in the region including Settlement Services International. "Our key focus is to target multicultural workers in community services and health workforces to participate in this Diploma delivery," said ICAN Learn Executive Officer, Bernadette Pasco "Upskilling the current multicultural workforce means that we can build more financial literacy and financial counselling capacity into the future."
You can express interest in the new MCSP 2020 by emailing eoi@icanlearn.edu.au and requesting course information.