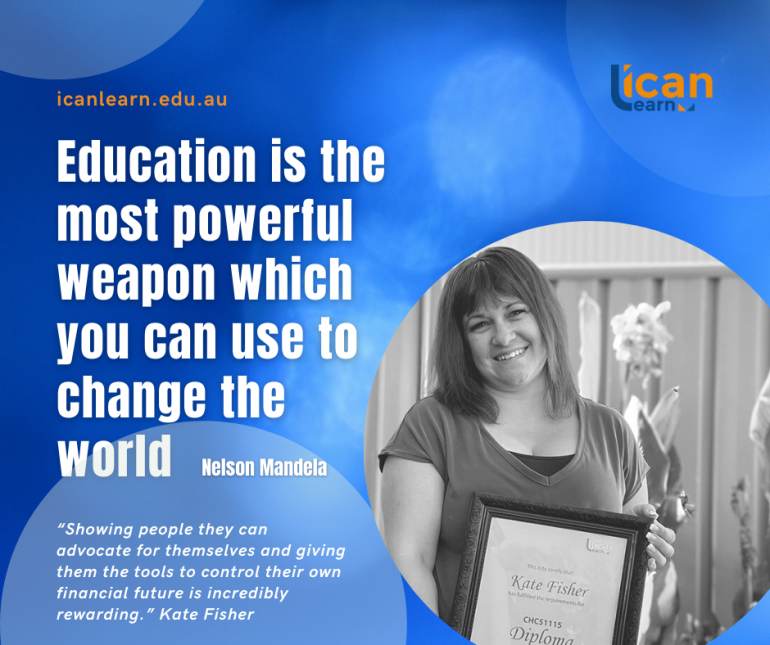 We recently caught up with ICAN Learn, Diploma of Financial Counselling graduate Kate Fisher to discuss her training and employment journey.
What made you decide to study financial counselling?
I had been studying the Diploma of Community Services at SuniTAFE Swan Hill and loved all my learnings. The facilitator for the course identified my passion for financial education as I had worked in the banking industry for many years before having my children. She suggested I explore the option of becoming a Financial Counsellor, and I haven't looked back since!
You live and work in a regional area. Can you tell us a bit about the challenges in terms of study and getting into a new profession?
Living in regional Victoria can make it a lot harder to find support to work and study at the same time, especially as a single parent working full time. Technology certainly helps! Also, there aren't as many opportunities as in metropolitan areas. I guess for me, although I live, work, and studied in regional Victoria, I was lucky enough to have variety in my work and learnings. I also had a clear understanding of our rural communities and how my financial counselling and community service skills would be most useful. Although my passion lies with empowering women who have experienced family violence, I am learning more about the effects of gambling, irresponsible lending, and homelessness on clients. I expand my knowledge every day.
Tell us about the employment opportunities that have opened up due to your financial counselling studies.
I started as a student financial counsellor in the Southern Mallee, and I am now a financial counsellor for the Echuca region. Both the Diploma of Financial Counselling and Diploma of Community Services has opened up various doors to work in all areas of support services. But I just love financial counselling, and that's where I plan on staying!
Tell us the best part about undertaking your Diploma of Financial Counselling with ICAN Learn.
The flexibility to push forward at my own pace and liaise with other students going down the same career path was fantastic!
What is the best thing about getting your Diploma of Financial Counselling?
The sense of achievement in completing the qualification was a proud moment for me, and I love using what I have learnt to support other new Financial Counsellors with their studies.
If there is one thing you could say to people wanting to become a financial counsellor, what would that be?
Talk to a financial counsellor, listen to their experiences and how they help people on a daily basis. If it excites you – do it!
Is anything else you would like to share with us?
I would love to be out in the community doing financial education and creating awareness about the role of a financial counsellor. I believe there is a lack of understanding of what we do and the specialist skills we use to speak up for those in need of support and advocacy. Most importantly though, it's empowering individuals in the community. Showing people they can advocate for themselves and giving them the tools to control their own financial future is incredibly rewarding. I wouldn't trade it for anything!