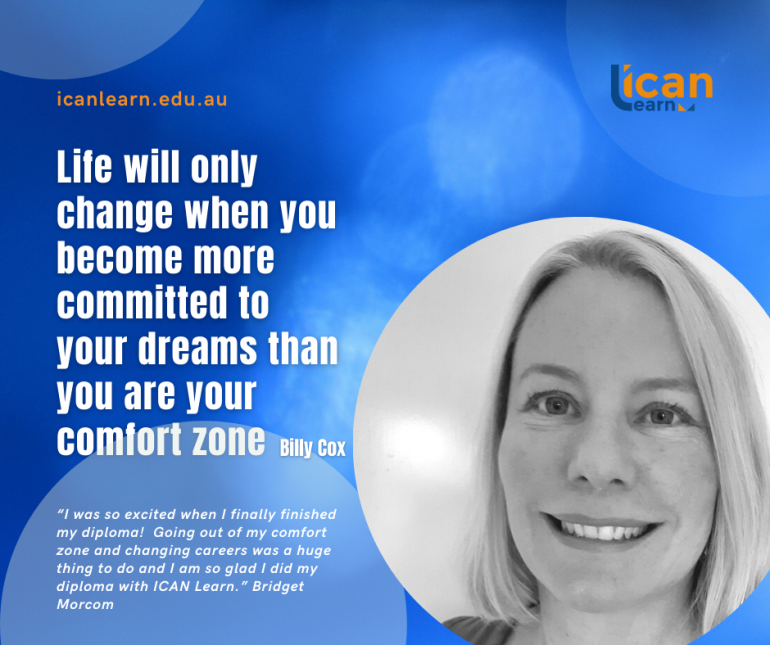 When Bridget decided to change careers from corporate accountant to financial counsellor, she invested in ICAN Learn to turn her dream into a reality. We caught up with Bridget to find out more about her journey.
Having worked as an accountant for various companies for several years, I was looking for another job when I across financial counselling – I didn't even know it existed!
When the company I was working for was bought out by a multinational, I knew it was time for a change and a move into the Not-for-Profit sector.  I saw a job ad for a financial counsellor, and it was everything that I wanted to be doing!  I couldn't believe I'd never heard of financial counselling before.  When I rang to find out more about the role, I discovered I needed to do the Diploma of Financial Counselling.  It had been years since I last studied, so I was a bit apprehensive.  I looked into the options of who I could study with and decided on ICAN Learn.  Their approach was professional and very welcoming.
It was difficult to get back into study but setting a schedule and sticking to it really helps!
I didn't really know what to expect and it took me a bit of time to get back into studying, but I think the course was more comprehensive than I had anticipated, and there was a greater counselling component.  It was very thorough, so by the end I felt well prepared to start my career as a financial counsellor.  I found I needed to be organised and self-motivated.  It was often easy to get distracted by other things I had going on, but I really enjoyed the course content, and the ICAN Learn teachers were very supportive.  For someone thinking about doing this diploma, I would suggest asking lots of questions, chatting to a financial counsellor, and ICAN Learn.  Once you have signed up, make sure to set aside regular blocks of time to study.
Learning in the workplace is a vital part of developing financial counselling expertise
I was very fortunate to get a placement opportunity not too far from home, but 3 weeks later we had our first COVID lockdown, and everything just stopped.  Luckily my placement gave me enough time to get a feel for financial counselling work, and I had loved every minute of it.  After eight months I went back and completed my placement.  Workplace learning is essential to understanding the role of a financial counsellor.  Every day you gain so much knowledge from colleagues, supervisors, and others in the sector.  Every client is different, and every creditor is different, so learning from my mentor and other financial counsellors was essential to developing all the necessary skills and contacts.  During 2020 I also worked on a COVID financial support hotline, giving me some excellent relevant work experience.
Getting through the Diploma of Financial Counselling has given me new opportunities and ways to assist people
I was so excited when I finally finished my diploma!  Going out of my comfort zone and changing careers was a huge thing to do, and I am so glad I did my diploma with ICAN Learn.  It has allowed me to work in an area I feel very passionate about. I feel like I can make a difference to a person's financial situation and wellbeing. There are so many who, for numerous reasons, don't have the confidence or knowledge to advocate for themselves; or have tried to but without much success.  I feel like I have the opportunity to assist people – not just with their debts, but to give them the confidence to take control over their financial situation and have a less stressful, more positive future.
I not only gained a qualification but found a financial counselling job!
I was thrilled to get a paid financial counselling position that also allowed me to complete my placement.  I felt like I jumped into the deep end as we were all working remotely due to COVID, which made starting a new job – with little financial counselling experience – particularly challenging!  Fortunately, everyone I work with has been friendly, helpful, and encouraging.  You need to have excellent time management skills, and I am already using just about everything I learnt in the diploma.  Every day I gain a better understanding of just how necessary the financial counselling industry is.  It can be exhausting and sometimes confronting work, but when I hear the relief in my client's voices when they realise they are believed, that we are on their side, and there is a way forward, I feel so fortunate to be working in this industry.  I also have a better awareness of how systemic advocacy and community education are such an essential part of financial counselling.  I am so pleased I decided to go back to study and do the diploma with ICAN Learn.
One thing I'd say to current and emerging students about this journey…
It is hard but very rewarding, so persevere!  It can seem like a long journey, but it is very rewarding in the end.  Keep going, be proactive and take up any opportunities that come your way!