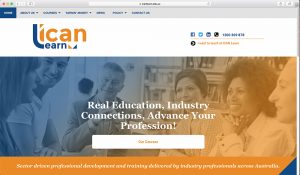 ICAN is pleased to announce the launch of ICAN Learn, our registered training organisation (RTO). The milestone is the realisation of a dream shared at opposite ends of Australia's east coast. It was our  vision to create an RTO dedicated to the professional development and advancement of the national financial counselling, capability and resilience sectors.
"As a specialist organisation, it has always been vital that our community receives the best quality service in these areas", explained Aaron Davis, ICAN CEO. ICAN's model of training, supervision and professional development is central to our success and industry recognition."ICAN Learn will replicate this model in its training delivery," said Mr. Davis.
Bernadette Pasco, formerly of the Financial and Consumer Rights Council (FCRC),  joined ICAN in 2016 to lead the development of ICAN Learn. Ms. Pasco was instrumental in introducing the industry qualification, ongoing professional supervision and development for financial counselling in Victoria.
"My passion and driving force over the last 10 years has been the professionalisation of the financial counselling sector," said Bernadette, ICAN Learn's Executive Officer. "I firmly believe that the training and professional development of our sector is crucial in making a greater impact in the communities we service."