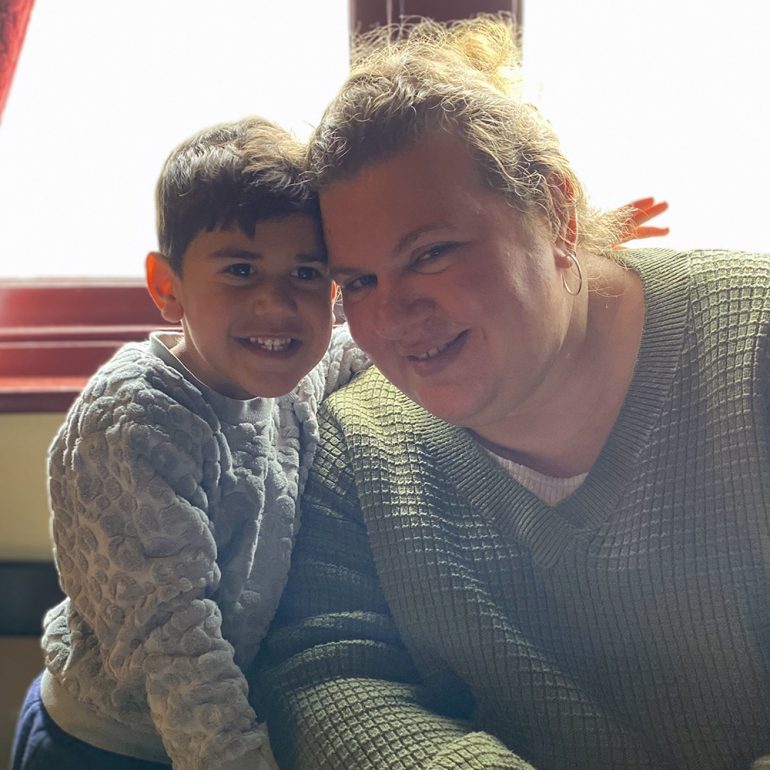 Melissa ditched her daily 5-hour work commute to become a Financial Capability Trainee with ICAN Learn in August 2022. We spoke to her to find out how she's going and why she needed a career change.
Welcome to The Yarn Mel! Can you tell us a bit about yourself?
I'm originally from Dubbo, NSW, my father's side is Wiradjuri from around the Dubbo area. I was born and raised there and am the eldest of seven kids. My husband and I decided to take a short trip to Melbourne and Geelong in 2011. We loved it so much we decided to take the plunge and move permanently to Geelong. We lived there for a few years before moving to Castlemaine in Victoria. We love this area. My husband owns a plumbing company here, and we now have a 4-year-old boy Zhoni, so we're pretty settled.
What motivated you to apply for the Financial Capability Trainee job with ICAN Learn?
My friend spotted the job and told me about it. I wanted to make a change as I'd been doing a 5-hour round-trip commute to my job as a Dental Assistant for the last 10 years. I also wanted a complete career change as I felt it was time to challenge myself and expand my knowledge. I've always had a keen interest in community services and dabbled in it a bit when I left school. I thought I would go back to study at some stage. The Financial Capability Trainee job at ICAN Learn required me to complete a Certificate IV in Community Services so it's perfect for me.
The Certificate includes Financial Literacy Skillset units. Can you tell us a bit about it?
The course has been amazing so far. The small groups allow for lots of discussion and time to ask questions, and it is based on many life skills, so it's delivered in a way everyone understands. The course is designed to transition into whichever community services setting you're in, so it's really relatable. It has ignited a bit of a fire because financial literacy is something that is lacking for a lot of people. I had no idea of half the resources and help available before starting this role.
You recently did a Yarnin' Money road trip around Victoria recently. How was that?
Travelling to Swan Hill, Robinvale and Mildura with my colleagues Tracey McCurdy (ICAN Learn) and Carmen Hegarty (ICAN) was fantastic. Carmen is based at the ICAN head office in Cairns and came down to deliver Yarnin' Money training to Indigenous Community Service Workers. It was amazing seeing Carmen in action. This was my first experience seeing Yarnin' Money, so it gave me a broader understanding of my role, the possibilities for the future and some ideas of where I can utilise Yarnin' Money here in our local area.
Has anything about your new job surprised you?
The job has been fantastic so far, everyone has been amazing, welcoming and supportive. It made me also realise how little financial education was available to Indigenous communities and how few training programs there are for community.
Why is it important to have more Indigenous Financial Capability and Financial Counsellors in the sector?
It's important to have more Indigenous Capability Workers and Financial Counsellors as Indigenous community members need to be comfortable accessing help. They want to be able to relate to someone who understands their challenges. How is it 2022 and we have so few? There needs to be more promotion around the importance of these roles. I hadn't even heard of them before I got this job.
What would you say to people interested in applying for the Certificate IV Scholarship?
Do It!!! The teachers are very supportive, you will learn a lot, and it doesn't take all of your time. I was a bit worried about having my young son how I would manage, but so far, the balance has been perfect and not overwhelming.
Where will we find you at weekends?
On weekends you'll find me hanging out with my husband and little one. There are lots of beautiful villages and markets where we are so we like to take a drive and go exploring. Travelling 5 minutes to work instead of 5 hours has restored my work/life balance, so I have more time and energy to spend with my family. Changing careers has been a great move and I'm really excited about my future.
To find out more about ICAN Learn Scholarships or Courses register for our next free information session here