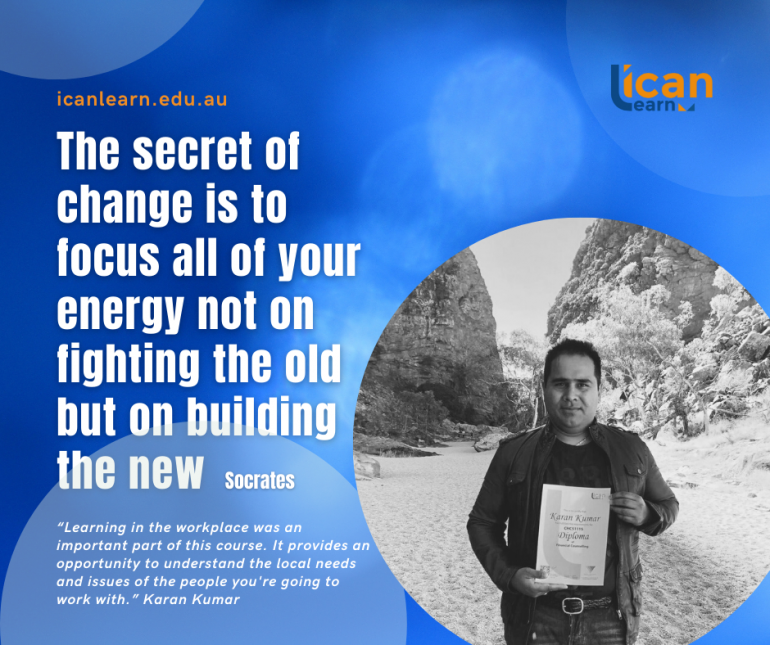 Karan Kumar is from Punjab in the northwest of India. He arrived in Australia in 2008 and lived in Melbourne for six years before moving to Alice Springs to get remote work experience and community services qualifications.
Tell us a little about yourself, your background and why you decided to undertake the Diploma of Financial Counselling. 
"My background is in commerce, in which I have a bachelor's degree, and I also have a Diploma in Business and Certificate IV in Community Services."
After completing Certificate IV in Community Services, Karan joined Mission Australia in 2016. In his new role as a Housing Officer, Karan says he had to learn to deal with people struggling with debt.
"I started running a session with my clients about money management. Very simple things such as the importance of paying rent, how to budget with a limited Centrelink income, how to reduce debt through proper planning etc. I also used to refer my clients to financial counselling service providers, which are very limited in Alice Springs."
Karan started to think about studying financial counselling with the hope of building on the limited services available in Alice Springs. 
You won a scholarship to undertake the Diploma of Financial Counselling. What made you come to ICAN Learn?
"I was unable to afford the fees of doing a diploma, so I started exploring scholarships or government grants and found out about the ICAN Learn Multi-Cultural Scholarship Program."
Karan couldn't attend the multi-cultural program in Melbourne, so ICAN Learn and Karan collaborated on ways to achieve the Diploma requirements. 
Can you talk a bit about the challenges in learning to become a financial counsellor?
"The main challenge I faced was getting to placement as I live in a remote area and most community services provide outreach to communities that are at 6-7 hour drive away on dirt roads.  So that was very challenging, especially when you are away for a minimum of 2 weeks with a young family at home.
I am so glad I got the scholarship with ICAN Learn. There was an opportunity to study online and still get 1:1 live support from the teacher. Without these two options, I don't think I would have been able to do this."
You have undertaken some Learning in the Workplace as a part of your course. Did that help you learn more about doing financial counselling?
"Learning in the workplace was an important part of this course. It provides an opportunity to understand the local needs and issues of the people you are going to work with. It is an opportunity to learn so many other things which are far beyond theoretical knowledge and gives you a better idea of the sector itself. The tasks performed during placement allowed me to apply my learnings in a real-world environment, which helped me develop interpersonal and problem-solving skills by interacting with clients and other team members."
You recently had the opportunity to undertake some remote work with a financial counselling agency in Alice Springs. Tell us a little about what you learned when you were on that placement. What sort of casework did you get involved in?
"It was a great experience to do some correction centre work with Lutheran Community Care. Dealing with remote client groups is very different and challenging in many ways, such as language barriers, cultural barriers, and very limited resources.
I helped prepare tax returns, find lost super, and resolve cases where clients had been sold unwanted telephone or insurance products. The casework had a lot of variety.
What do you see as important for financial counsellors to focus on when working with Indigenous and multicultural clients in more remote communities, are there additional practice considerations?
"It's important to have a lot of patience, and have some cultural competency.  Research the community before you go and follow the laws of that community."
Karan learned that you always need to make a formal request before visiting Indigenous communities and understand and respect protocols.
"Find out whether it is a good time to visit, stay away from sacred sites, and make sure there is no sorry business or cultural business going on. You are also responsible for arranging your own food and accommodation, so if you don't pre-arrange it, don't go."
If there was one thing you could say about financial counselling sector development, what would it be?
Karan is insistent that proper funding is required, which includes consideration for the travel needs of the organisation and the individual.
"We need more qualified financial counsellors in the NT and jobs to employ them!"
Thank you, Karan, for sharing your story with us and undertaking to become a financial counsellor. Alice Springs will benefit from your new knowledge and skills.
Tags: Alice Springs, Commonwealth Bank, counselling, diploma, experience, financial, ICAN Learn, India, multi-cultural, Northern, Program, Punjab, red centre, Scholarship, Territory, work