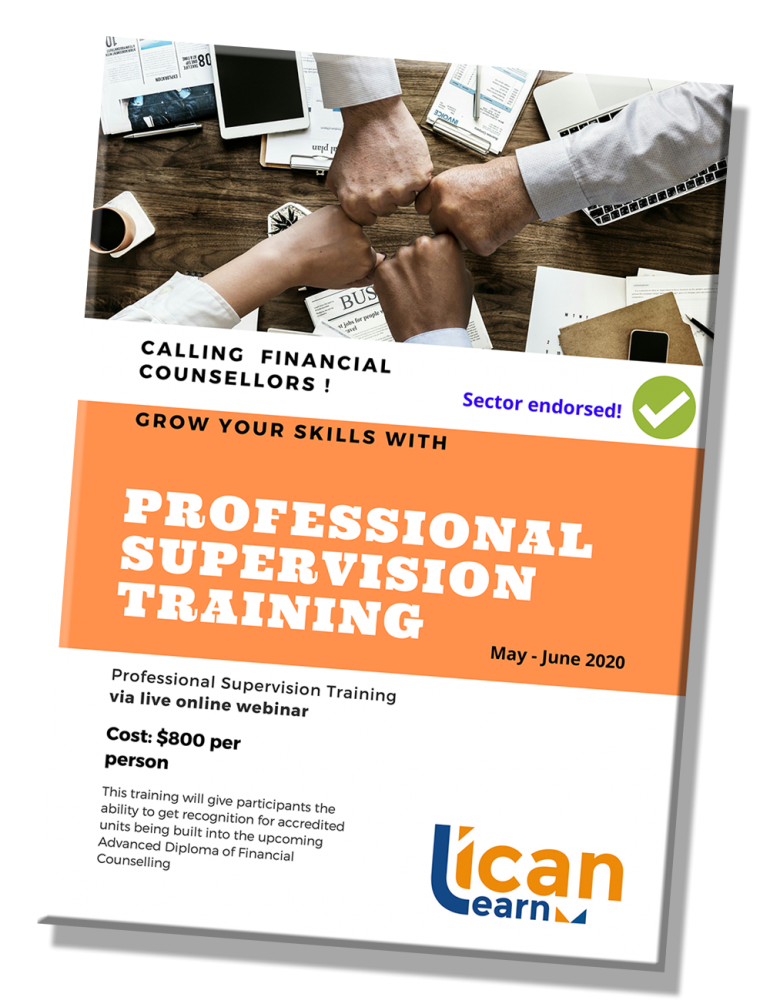 The resilience of financial counsellors is enhanced by professional mentoring / supervision. The advent of National Standards a few years ago included the need for a specific focus on professional supervision as part of the aim of continuous professional development. It has been difficult to establish this new way of thinking in the sector, but slowly, various regions are seeing the benefit. The understanding of professional supervision / mentoring is growing, and the researched approaches used in other professions, are starting to bear fruit in the financial counselling world.
Professional supervision has the potential to be one of the best resilience building tools that we can access; it focuses on the wellbeing of the individual financial counsellor, taking into account their professional needs and personal learning style to be the best professional they can be. As we build the sector's capacity, we continue to demonstrate the financial counselling sector's potential for increasing professionalism.
Professional supervision is a key part of professional development, and involves 2 way learning and mentoring with roles for both the supervisee [enquiry] and supervisor [resourcing]. The professional supervisor / mentor, applies proactive communication, active listening, understanding of the cycle of change/reflection/ development and lots of other skills to ensure that each financial counsellor they supervise can build higher skills and seek self-determination in terms of their career and personal development.
Professional mentoring / supervision augments the already established and necessary function of line management supervision, which provides the necessary focus on casework, risk management, protecting clients and organisational outcomes.
Professional supervision/mentoring is everybody's business- it's a collaboration for better outcomes; every financial counsellor, whether supervisor or supervisee, must understand their role in this, so all the more reason to ramp up training opportunities.
ICAN Learn is leading a new way to ensure that the financial counselling workforce is able to support its professional membership across Australia with some education innovation. In February / March, Bernadette Pasco, experienced in professional supervision and its development, decided to try and gather a few financial counsellors for delivery of a 6 week online workshop approach. We are currently coming up to week 6, and feedback has been great so far!
"We plan to run a regular approach to this, so that financial counsellors have the opportunity to undertake training at a set time each week in their own environment." says Bernadette Pasco, Executive Officer of ICAN Learn; "That way, it's not too imposing and does not require major time out of the office. Our next 6 week program will commence in May 2020. Our limit is 15 people per course to enable full participation and quality."
[Find our brochure on this link https://icanlearn.edu.au/wp-content/uploads/Professional-supervision-training-May-June-2020-2.pdf]
ICAN Learn plans to set up a professional supervision program in the near future, hosting a list of financial counsellors who have undertaken our training that are available to provide professional supervision to financial counsellors around the country either face to face, via computer [Zoom] or telephone. Watch this space for more training and program information! https://icanlearn.edu.au/courses/professional-supervision-financial-counsellors/