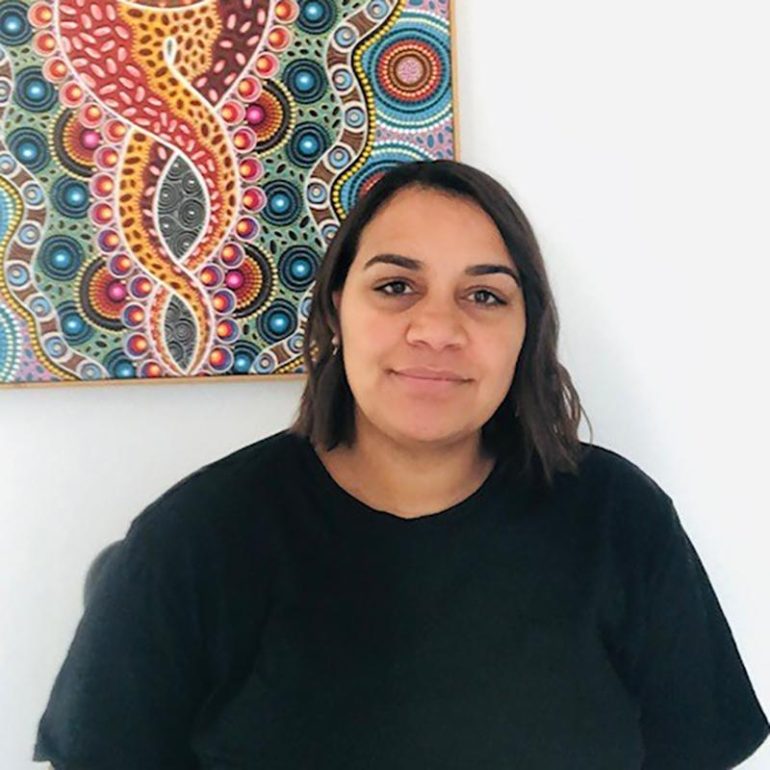 Myra Faletau, an Arrernte woman from Central Australia, is about to graduate from ICAN Learn's Diploma of Financial Counselling.  Myra found time in her busy day to yarn with us about why she applied for a CommBank Indigenous Financial Counselling Scholarship and how this knowledge is also changing her kids' lives.
Hi Myra! Can you tell us a bit about yourself and where you're from?
I was born in Alice Springs but grew up in the remote NT community of Ltyentye Apurte (Santa Teresa), about 85km from Alice. My first language is Arrente. I went to boarding school in Darwin as there was no secondary schooling in my remote community. After graduating high school, I moved back to Alice and worked in grassroots community development organisations, then moved to Perth and Melbourne for a few years, where I completed a Bachelor in Community Management. I eventually moved back home to Alice with my husband and five-year-old twins. I'm about to graduate from my Diploma of Financial Counselling course with ICAN Learn and am expecting my new baby in a couple of weeks, so it's a busy time.
What motivated you to apply for the Diploma of Financial Counselling scholarship?
It started with me wanting to teach people about financial literacy. I didn't grow up with money or an understanding of money; I've learned that through my job. Knowing how to budget and understanding how credit works are really important and something I wanted other First Nations people to understand. While looking for courses I came across the ICAN Learn websiteandrecognised some of their past students and thought, 'I could probably do that', so I applied for the scholarship.
Why are the Commbank Indigenous scholarships so important?
If I didn't get the scholarship, I couldn't have done the course as I wouldn't have been able to afford it at the time. Our people would lose a lot of opportunities if these scholarships weren't available.
You completed the Diploma online. Can you tell us what that was like?
Being able to complete my Diploma online is what made the course possible for me. I live in regional Australia, work full time, and have a young family, so travelling interstate to study wouldn't have been an option. The Zoom classes were great, and I got a lot of fantastic support from my trainer and the entire ICAN Learn team. There were a few times I dug myself into a hole with my studies and having too many things to do in life, but the team would set up a plan for me and break things down into manageable pieces, which got me to where I am now, about to graduate as a Financial Counsellor.
Why does the sector need more First Nations financial counsellors and financial capability workers?
We have the same lived experience as our clients, so it's easier to hear and talk about money from someone who is like you. It's very different from someone coming in who's never had that experience telling you, "Oh, this is how easy it is", when First Nations people know it's not that easy.
Some people might live paycheck to paycheck, and often family think that's our way. Then when you're good with money and able to save, it's often seen as 'that's the whitefella way', but it isn't. We've always grown up that way, but there is a different way of living. You can start to see financial freedom is achievable when you can connect with someone like you.
What would you say to a First Nations person considering applying for a scholarship with ICAN Learn?
Do it, we need more First Nations people in the sector. People bring their own lived experiences to their work. Even when I was doing home lending, I'd have certain people calling me instead of my colleague next to me, or vice versa, so it's important to have financial counsellors and capability workers with different life experiences. For example, when one of my First Nations work colleagues realised that I was doing the Diploma of Financial Counselling, he said, "I've been looking at doing that course, I didn't realise you were doing it", and he's a chartered accountant.
Has doing the Diploma of Financial Counselling changed your family's relationship with money?
One thing I love doing with the kids is just talking about money, they're right into their savings now! Like when we go to Kmart, they don't just chuck things in the trolley. They say, 'How much is this, do I have enough pocket money?' or they count how much money they've saved before we go, so they know what they can buy. It's really nice to have these conversations with them so they can learn the value of money and not be afraid of it. I also love using my knowledge to empower family members and people in my community. The financial knowledge I've gained through my work and study is crossing generations.
Find out more about the ICAN Learn/CommBank Indigenous Diploma of Financial Counselling scholarship here