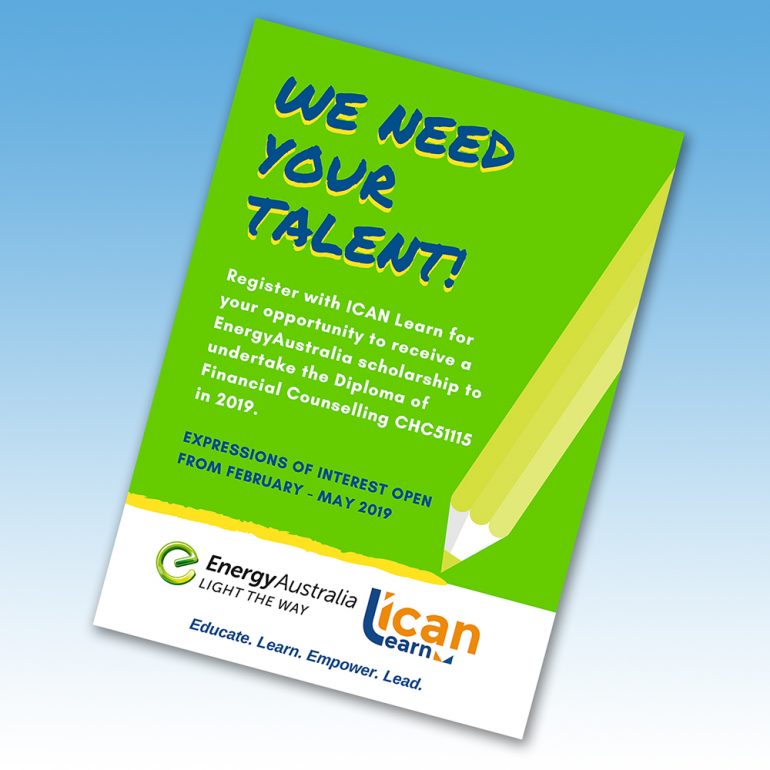 ICAN Learn has two scholarship programs commencing mid-2019, expressions of interest are now open. Check out the two options in this promotion to see if your State or Territory is covered, this is a great opportunity to receive a free diploma qualification (normally priced at $8000.00) that provides a real education and industry connections.
EnergyAustralia and ICAN Learn have partnered to deliver a Diploma of Financial Counselling Scholarship Program in QLD, NSW, Vic and SA in 2019. The EA scholarship program is one in a suite of initiatives designed to continue the professionalisation of the financial counselling sector over the next three years. Watch this space for future opportunities including an EA Advanced Diploma of Financial Counselling Scholarship Program.
In 2019 the Commonwealth Bank of Australia and ICAN Learn will continue to support diversity and build the representation of Indigenous and Multi-Cultural financial counsellors within the sector. The 2019 Remote/Indigenous/Multi-Cultural Diploma of Financial Counselling (CH51115) Scholarship Program will be delivered in the Northern Territory and be open to all people working in regional and remote Aboriginal communities.

ICAN Learn has also set 2019 dates in QLD, NSW, Vic and SA for delivery of the Financial Literacy Education Skill Set (CHCSS00077). Course fees are $800 per person, discounts available for groups of 10 people and over. (max 20 per group) 
Develop skills to work in the financial capability sector and build study pathways to financial counselling in 2019. ICAN Learn has set dates to deliver the Financial Literacy Skill Set (CHCSS00077), a prerequisite for working as a financial capability worker. Come learn from experts in the field.
QLD, Date: 5 & 6 August, Location: TBA
NSW, Date: 16 & 17 May, Location: TBA
Vic, Date: 8 & 9 April, Location: TBA